Heads up: Fall protection requirements for construction are about to change
There are two new safety requirements in store for employers who do construction work in Oregon next year and they're both about fall protection.
On Jan. 1, Oregon OSHA's 10-foot trigger height – the minimum height at which workers must be protected from falls – will fall to six feet (no pun intended).
And on Oct. 1, slide guards will no longer be permitted as a method of protecting workers from falling off of sloped roofs.
These new requirements mean that – if you do construction work – you will need to use some form of fall protection to prevent your employees from falling six feet or more to a lower level, beginning Jan. 1, 2017. And if you're using slide guards as fall protection, you will have to replace them with another type of fall protection beginning Oct. 1, 2017.
Oregon OSHA adopts changes to 437-001-0700, Recording Workplace Injuries and Illnesses
On Nov. 10, Oregon OSHA adopted changes to its Division 1 requirements for reporting workplace injuries and illnesses to align them with the requirements in federal OSHA's unusually titled final rule, Improve Tracking of Workplace Injuries and Illnesses. (As part of its state plan agreement with federal OSHA, Oregon OSHA's rules must be at least as affective as OSHA's.)
The key changes in Oregon OSHA's Division 1 rule – 437-001-0700, Recording Workplace Injuries and Illnesses – become effective May 1, 2017, and require employers to: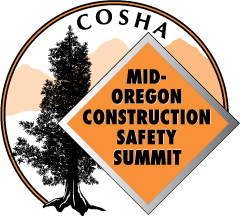 Mid-Oregon Construction Safety Summit returns to Bend in January
The 16th annual Mid-Oregon Construction Safety Summit takes place at the Riverhouse on the Deschutes Convention Center, Jan. 30-31, 2017. This year's summit includes workshops for folks in the residential, commercial, and industrial construction. Offerings include five pre-conference workshops on Jan. 30, and 18 breakout sessions on Jan. 31.
Silica: OSHA publishes compliance guide for the construction industry
OSHA recently released a compliance guide meant to help small businesses in the construction industry meet the agency's requirements for exposure to crystalline silica.
Many of you will recall that federal OSHA adopted its final rules for respirable crystalline silica (one rule for the construction industry and one for general industry) in March; Oregon OSHA adopted its own set of silica rules (that apply to general industry and construction employers) in September.