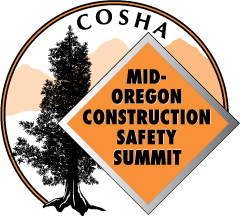 Mid-Oregon Construction Safety Summit returns to Bend in January
The 16th annual Mid-Oregon Construction Safety Summit takes place at the Riverhouse on the Deschutes Convention Center, Jan. 30-31, 2017. This year's summit includes workshops for folks in the residential, commercial, and industrial construction. Offerings include five pre-conference workshops on Jan. 30, and 18 breakout sessions on Jan. 31.
The summit's keynote speakers are local and successful construction industry owners and managers discussing the "Journey to Commitment." Jeff Deswert with Kirby Nagelhout Construction and Todd Taylor with Taylor NW share their journey of safety and how that culture has contributed to the success of their companies and careers during their combined 30 years of experience in Central Oregon's construction industry.
Registration for pre-conference workshops (Jan. 30) is $50 per person. Conference registration (Jan. 31) is $85 per person.
Register and get more information at https://safetyseries.cvent.com/summit17.